2021 Show and Convention 2022 Show and Convention
Lubbock, TX New Orleans, Louisiana
2021 SCFMS Show and Convention
Hosted by the Lubbock Gem and Mineral Society
September 25 - 26 at the Lubbock Memorial Civic Center
1501 Mac Davis Lane, Lubbock, TX 70401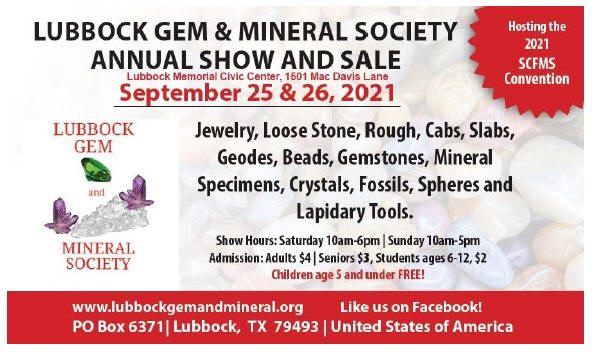 Editors and Webmasters Breakfasts on Saturday morning, 25 September at 8:00 AM - Pre-Registration due by September 1, 2021
SCFMS Annual Meeting on Saturday afternoon, September 25 at 1:00 PM
SCFMS Awards Banquet on Saturday evening, September 25 at 7:00 PM - Pre-Registration due by September 1, 2021
Rollin' Rock Club Meeting on Sunday Morning at 8:00 AM
Show information that includes the Show Hotel Information, Deadlines for Pre-Registration for the Breakfast and Awards Banquet with Lubbock Gem and Mineral Society is September 1, 2021. The Show Information and the Pre-Registration form is available HERE.
2022 SCFMS Show and Convention
Hosted by the Gem and Mineral Society of Louisiana
October 7 - 9
This will also be the AFMS Convention - plan early to be there!